Thursday, July 01, 2004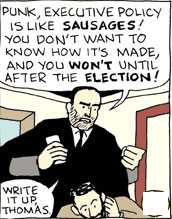 Of course, the problem is that a lot of what the Bush Administration is doing is too esoteric for many people to find objectionable. This is, in many ways, the genius of Michael Moore, who has found a way to make it personal. It makes Republicans crazy, and I have to agree that Moore takes some cheap shots, but cheap shots are hardly unique to the Left. Indeed, the rise of the Republican Right is all about cheap shots: from Willie Horton to the
commercial comparing Al Gore, Howard Dean and John Kerry to Hitler.
It is discouraging to think that politics inevitably sinks to this sort of thing; it is even more discouraging to think that the people who believe that this is just something that they have to do also believe that the policies they have in mind to implement are high minded and just. Scott Fitzgerald said that "the test of a first-rate intelligence is the ability to hold two opposing ideas in mind at the same time and still retain the ability to function," and maybe that's true, but it seems to me that the ideals and goals of democracy shouldn't have to be achieved by appeals to the lowest common denominator.
I suppose this sounds very idealistic, but the fact is that as lawyers we see appeals made to juries that are based on reason and justice every day. I don't want to suggest that there isn't pandering going on in the courtrooms, but I think that for the most part the jury system that we use in the US demonstrates that when citizens are given good information, they typically reach the correct result. What makes this even more impressive is that when juries decide cases they are deciding the close calls: the slam dunks get settled, or plea out. This seems like pretty good evidence for the proposition that the same people are capable of making electoral decisions based on rational analysis of the policy differences between candidates and parties, but I don't get the sense that this is what we do, or are assumed to do. Since this is not how the system is seen as working we get stupidity like the Pledge of Allegiance controversy in '88, or calls to "support our troops" when the legitimacy of the Iraq war is called into question.

|
Comments:
Links to this post:
<< Home